NYPD Investigates Possible Hate Crime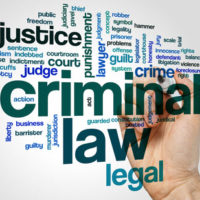 Police are looking for two men who allegedly assaulted a 25-year-old schoolteacher because he is gay.
Brandon Soriano speculates that the men sought him out after he attended a gay pride rally in Queens. They caught up with him that night in Jackson Heights, near the corner of 84th Street and 37th Avenue. Mr. Soriano said the men used an anti-gay slur as they beat him unconscious. He suffered a number of injuries, including a busted lip and several large bruises on his head.
In the wake of the attack, Mr. Soriano said he was disillusioned but not angry. "Homophobia is real and it's annoying," he remarked. "Definitely annoying."
Breaking Down New York's Hate Crime Law
Criminal defense attorneys in the Empire State sometimes like to point out that "hate" is not an element of the hate crime law. Instead, Penal Code 485.05 makes it a crime to "intentionally select[] the person against whom the offense is committed or intended to be committed in whole or in substantial part because of a belief or perception" about the person's status. That includes things like race, gender, national origin, and sexual orientation.
The law covers a lot of ground. It arguably applies to the mugger who targets women because he believes they are weak and less able to fight back. It does not matter that he harbors no particular ill will toward females. Ditto the thief who targets Asians because he believes they earn more money than other ethnic groups. The "belief or perception" need not be correct or even reasonable.
Prosecutors have taken note of the law's wording. Some Assistant DAs in the New York area tack on a hate crimes charge (a felony) to a low-level financial crime (a misdemeanor) if the alleged victim is an older adult. The state's rationale? The defendant targeted the older person because s/he believed that such people were easily fooled. That's an arguably fair interpretation of the statute, and some New York courts have upheld it.
Defending Hate Crime Charges in New York
Laws this broad often suffer from Constitutional problems. Specifically, many courts find that they are unconstitutionally vague. The test here is that the law must be specific enough so a reasonable person knows what conduct falls under the law.
485.05 passes muster under this standard, but just barely. At least it does list the prohibited statuses. The one possible grey area is that "sexual orientation" may or may not include gender identity.  Most New York courts say the two phrases are legally synonymous. Furthermore, the law specifically defines aged (over 60) and disabled ("a physical or mental impairment that substantially limits a major life activity"). There's also a listing of prohibited offenses in subsection 3.
Lack of evidence is usually a much better defense in New York criminal law cases anyway. The prosecutor must establish each element beyond any reasonable doubt. Many times, that evidence is not available.
If the defendant uttered a racial, ethnic, sexual or other slur, that's probably sufficient evidence. If the defendant passed over some victims to target a specific class of person, that may be sufficient evidence. The prosecutor's speculation and wishful thinking will not hold up in court.
Resource:
newyork.cbslocal.com/2018/06/04/queens-pride-parade-hate-crime/