Apologetic Giants Rookie QB Will Not Face Discipline After Arrest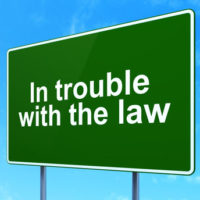 One week after he was arrested for a string of traffic violations near the Lincoln Tunnel, fourth-round pick Kyle Lauletta said he was sorry and coach Pat Shurmur said he would not suspend the young man.
The charges included obstructing administration of law, eluding police, resisting arrest, reckless driving, improper turn, disregarding an officer's directions, and failure to remain in a marked lane. Apparently, NYPD officers were directing traffic in an area under construction. Mr. Lauletta, who was running late for a team meeting, disobeyed their instructions and refused to produce a drivers' license. "I understand the cops have a very tough job and it was very chaotic at that location," he said. "I respect these officers and I can't say that I'm sorry enough. I have to prove myself worthy through my work ethic and put it all behind me. That's all I can control and I hope to move forward from this," he added.
Police added that they earlier cited Mr. Lauletta for similar infractions at the same location.
Classifying New York Crimes
No one really knows why Mr. Lauletta ignored officers' orders. Speculation is that the youngster got used to special treatment at tiny Downingtown East High School in Pennsylvania and the not-much-bigger University of Richmond. But the last time we checked, third-string quarterbacks for the New York Giants do not move to the front of the line. We all have to grow up sometime.
Fortunately for him, most vehicular crimes are regulatory offenses. The same label applies to most possession offenses, like UCW (unlawfully carrying a weapon) or drug possession. For the most part, regulatory offenses do not have the same gravitas as crimes of moral turpitude, which are discussed below. Some regulatory offenses, such as reckless driving, DUI, and vehicular homicide, may cross the line into CMT territory.
The crime of moral turpitude category is incredibly vague. Some people limit it to crimes involving fraud or dishonesty, such as embezzlement and theft, and crimes that turn one's stomach, such as prostitution and indecency with a minor. In other situations, the category is much broader. It may include any crime that involves any evil or malicious intent.
Why does all this matter? New York basically has no expungement law. There is a limited record sealing law which applies to most violations and any non-conviction judgments. There's also an even more limited sealing law which applies to some drug infractions.
So, if you are convicted of a crime of moral turpitude, that conviction could follow you indefinitely. A CMT conviction makes it much harder to get a job or join certain professions.
However, limited relief may be available. A person in this situation may pursue a certificate of release from disabilities or a certificate of good conduct. These certificates do not seal the record and they certainly do not expunge it. However, they basically grant immunity to employers who hire individuals with certain criminal records.
Indirect Punishments for New York Crimes
The type of crime is not the only collateral consequence in New York. Many offenses have indirect punishments. In some cases, the indirect punishment can be worse than the direct punishment. Some examples include:
Points: Almost all moving violations put points on a drivers' license. If you accumulate too many points, the state can suspend your license. Moreover, many insurance companies use points to raise your rates.
DUI: Both a DUI arrest and conviction can mean drivers' license suspension. Additionally, a DUI conviction usually means that the person must purchase pricey high-risk auto insurance.
Sex Crimes: New York has a layered registry system, so a sex crimes conviction does not necessarily mean a lifetime on a sexual offender list. Moreover, sometimes the list is relatively private.
Deportation: Even if you are not technically convicted of a crime, ICE could still use it in deportation proceedings.
Be sure and review all possible indirect consequences with your attorney, because once the case is resolved, it's almost impossible to re-open it.
Resource:
timesunion.com/news/crime/article/Giants-rookie-QB-Lauletta-apologizes-after-13367856.php