Discovery in New York Criminal Cases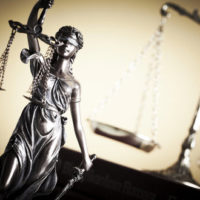 Justice is Blind not Blindfolded.
We are all familiar with the image of Lady Justice holding the scales of justice. Blind Lady Justice is supposed to represent impartiality.  Well, there was a movement in New York State to #RemovetheBlindfold as it was not representing impartiality, but just the opposite in the state criminal justice system.
I started my career in New Jersey. By the time I became a practicing lawyer and prosecutor in my home state, New Jersey had reformed its discovery rules and required all discovery in possession of law enforcement to be handed over at arraignment of a defendant. The obligation continued through trial. I would even allow defense attorneys to come in and look at my whole file it they wished. I was a firm believer that any work-product claim to shield anything that may be problematic for the state did not apply.
What a shock when I obtained my New York bar admission and found out a defense attorney obtained very little pretrial discovery. In a case I was assisting a trial team, the county prosecutor refused to give over to trial counsel about 9000 pages of discovery until after the state opened. This even though the judge asked. The prosecutor answered that even though the judge asked, (because after it was a murder case) the prosecutor held firm that under state law it was not required and that was that. But now that is changing.
In New York State the individual county prosecutors for years controlled any reform to this unfair. According to the Marshall Project:
"Legislators have introduced reform bills more than a dozen times in the last 40 years, but the state district attorneys association has always blocked the effort, arguing that providing witness information would put witnesses in danger of intimidation, harassment or worse."
Interestingly, these worries hardly ever materialized in the 47 other states with open discovery.  Florida opens all discovery in a criminal case to the public.
Lawmakers in the Empire State recently expanded the criminal discovery rules. Significantly, even if the defendant agrees to plead guilty, prosecutors must turn over most evidence soon enough to give the defendant time for the defense to investigate and evaluate the state's case and prepare either a proper defense or discuss a plea arrangement with all the appropriate facts. Otherwise, a New York criminal lawyer cannot properly advise the client.
The new rules generally will be as follows as summarized by the Marshall Project:
"The new rules, which go into effect in January 2020, eliminate the need for defense attorneys to file requests for discovery and require that a wide range of information, including grand jury testimony and police reports, be turned over automatically 15 days after an indictment. The rules also require some "reciprocal discovery," in which the defense must turn over some evidence to the prosecution. The measure allows prosecutors to request a protective order from a judge, allowing them to withhold witness information if they have reason to think the defendant may intimidate or harass the witness.
The discovery changes are part of a package of statewide criminal justice reforms that includes eliminating cash bail for the majority of cases and limiting procedural workarounds to the state's speedy trial statute."
Since prosecutors have the burden of proof, they collect a lot of evidence in criminal cases. Usually, investigators from the District Attorney's office team up with police officers or other law enforcement investigators. Not all the evidence they find is favorable to the prosecutor. But the prosecutor keeps it all, to fairly evaluate the strength (or weakness) of the case. A defense attorney needs to know about exculpatory evidence in a prosecutor's possession, like a DNA test that came back negative. This need also applies to potentially exculpatory evidence, like the contact information for a potential alibi witness.
There are many exceptions the district attorneys can claim under these rules to try to prevent all discovery from being turned over in a timely fashion. It will remain to be seen whether they will be abused by those who want to keep the unfair advantage that had been built in to the system for decades, whether criminal trial judges, many of who were prosecutors,  will deny such request for exceptions that appear to be more workarounds to fairness.
Resource:
themarshallproject.org/2019/04/01/blindfold-off-new-york-overhauls-pretrial-evidence-rules?utm_medium=social&utm_campaign=share-
https://www.lindakenneybadenlaw.com/jussie-smollett-got-pretrial-diversion-can-you-get-it-too/